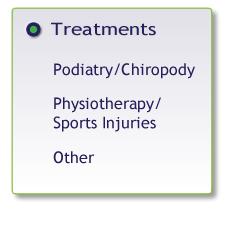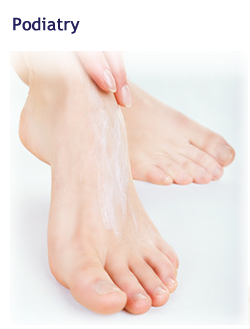 Podiatry / Chiropody in Rawtenstall
The modern HCPC Podiatrist / Chiropodist can treat all types of foot conditions in all ages of the population.
Foot Conditions treated include:
Corns, callouses, hard skin.
Verrucae, warts.
Painful, thick and / or infected toe nails.
Athletes foot.
Excessive perspiration.
Bunions, hammer toes, joint problems.
Painful heels, arches, ankles.
Sports Injuries.
Treatment Techniques include:
Painless removal of corns and callous.
For Verrucae : dependant on site/size of lesion and patient age

Cryosurgery
Traditional acid methods
Self-help

Minor Surgery

To repair/remove certain nail conditions

Silicone splints to realign toes.
Biomechanical/gait evaluation
Pressure relieving insoles and orthoses.
Ultrasound
Acupuncture for lower limb pain relief
Anaesthesia:
A local anaesthetic injection may be used if necessary to relieve pain and permit comfortable treatment.
For our Podiatry Treatment Charges please CLICK HERE

Balance Podiatry - 'Steps to a Healthy and Balanced Lifestyle'
HCPC Registration
All our Podiatrists / Chiropodists have undergone a 3 year full time course usually to degree standard and undertake regular continuing professional development. They are full members of their main professional organisation - The Society of Chiropodists and Podiatrists and are also registered with the Health Professionals Council - a Government recognised scheme.